With your electronic card, enjoy a nice restaurant, have a coffee or buy food from local shops or a supermarket. Via our app, you can order your lunch online!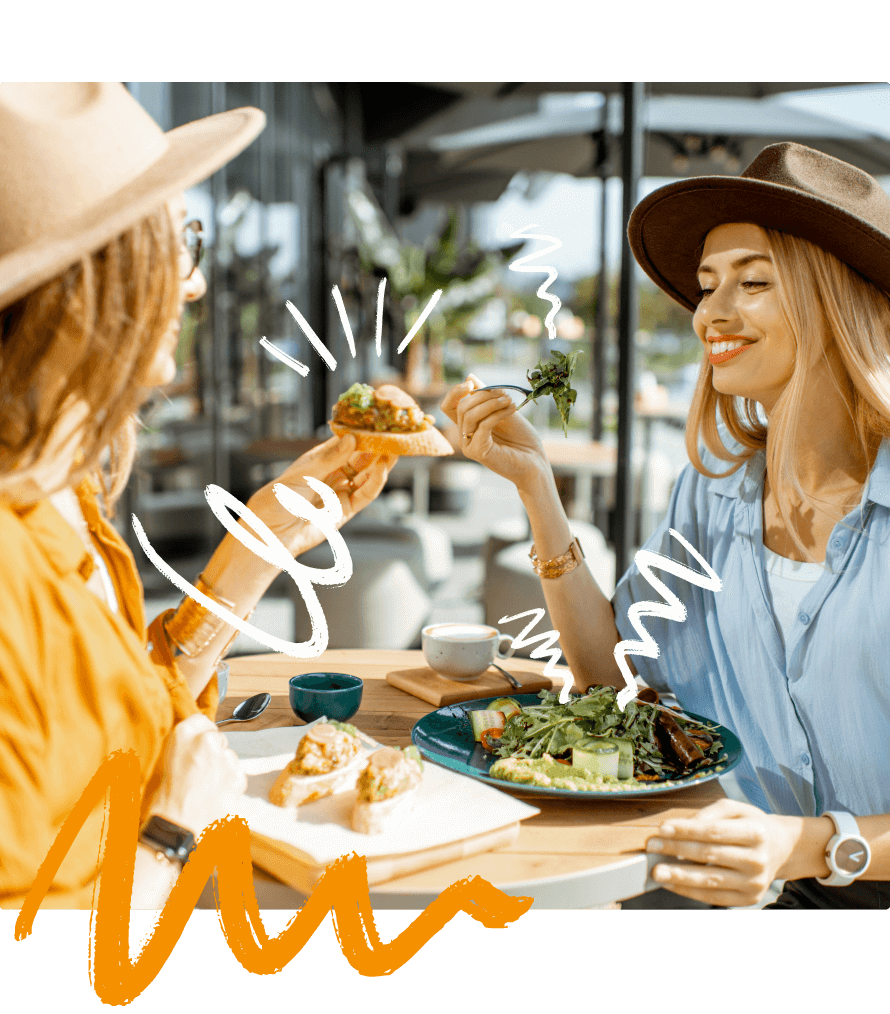 How to use the meal vouchers?
Pay your food with meal vouchers
Meal vouchers are valid for 12 months from the date of issue
The oldest meal vouchers will be used first
The remaining balance will be taken off first on the next transaction
We will notify you at least 10 days before the expiry date of your meal vouchers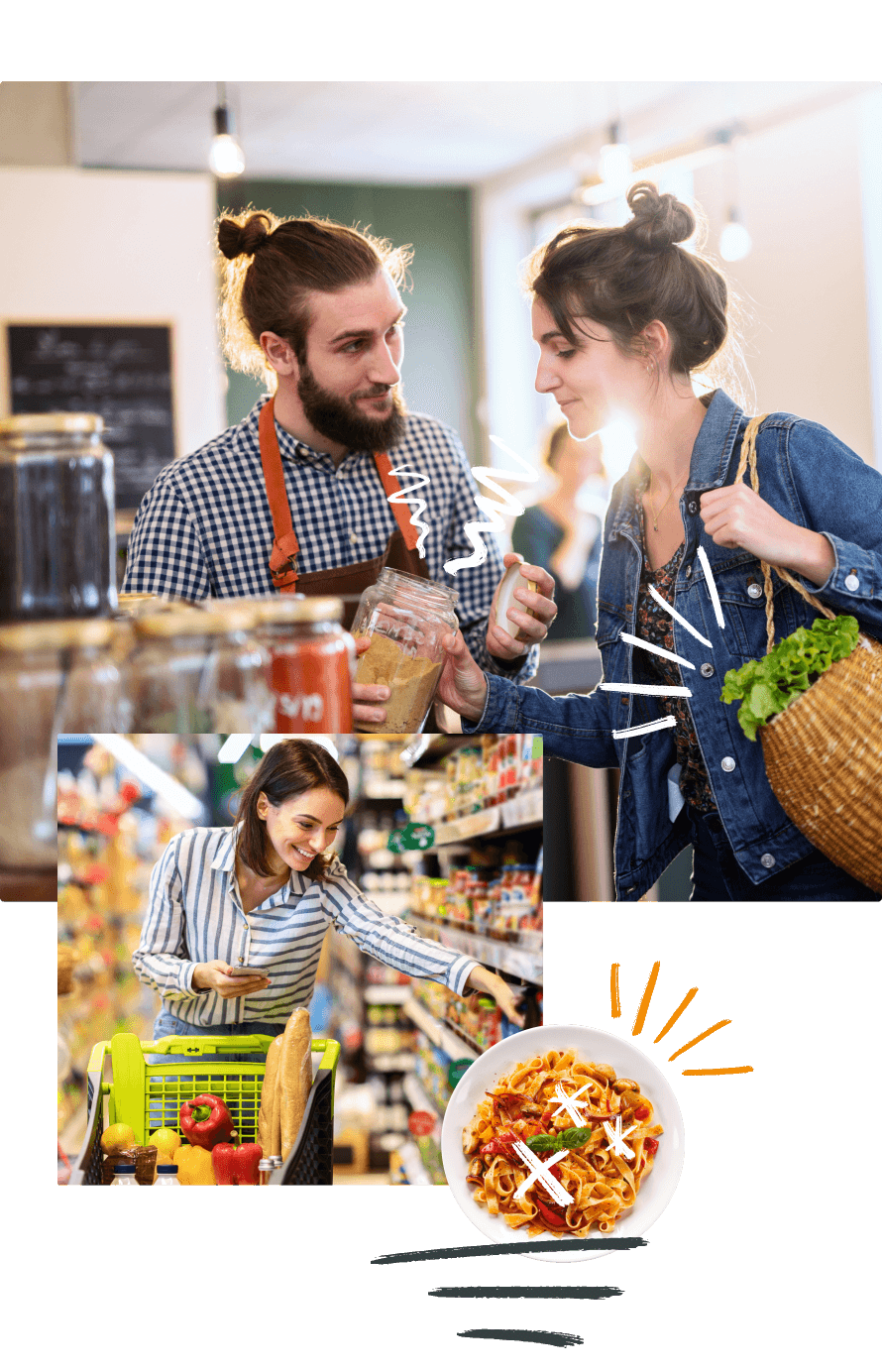 Meal vouchers:

what to buy in shops?

A salad, bagel, French fries, a pistolet, a quiche or sushis… Find out in which shops you can pay with your Monizze vouchers.

Many local shops, convenience stores, organic shops, gas stations, fast food chains, restaurants and supermarkets accept our meal vouchers!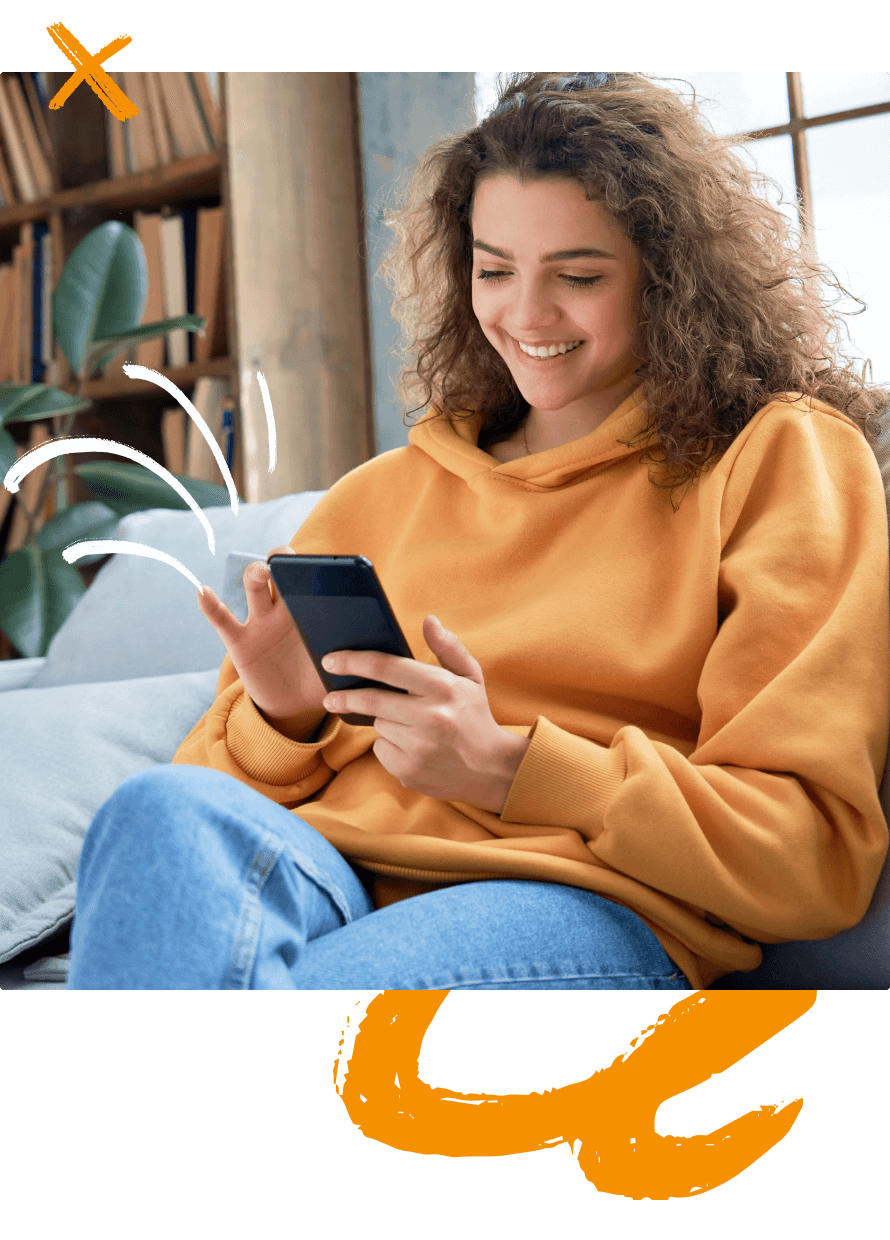 Meal vouchers:

what to buy online?

Shop with your meal vouchers at all our Belgian online partners.

Select 'Monizze' when paying online

on our partners' websites. Enter your Monizze username and password.

Pay online for meal boxes from Hello Fresh, eFarmz or Fresheo, for example. Deliver healthy and varied lunches and catering at work or at home with Foodiz Delivery or Localimus.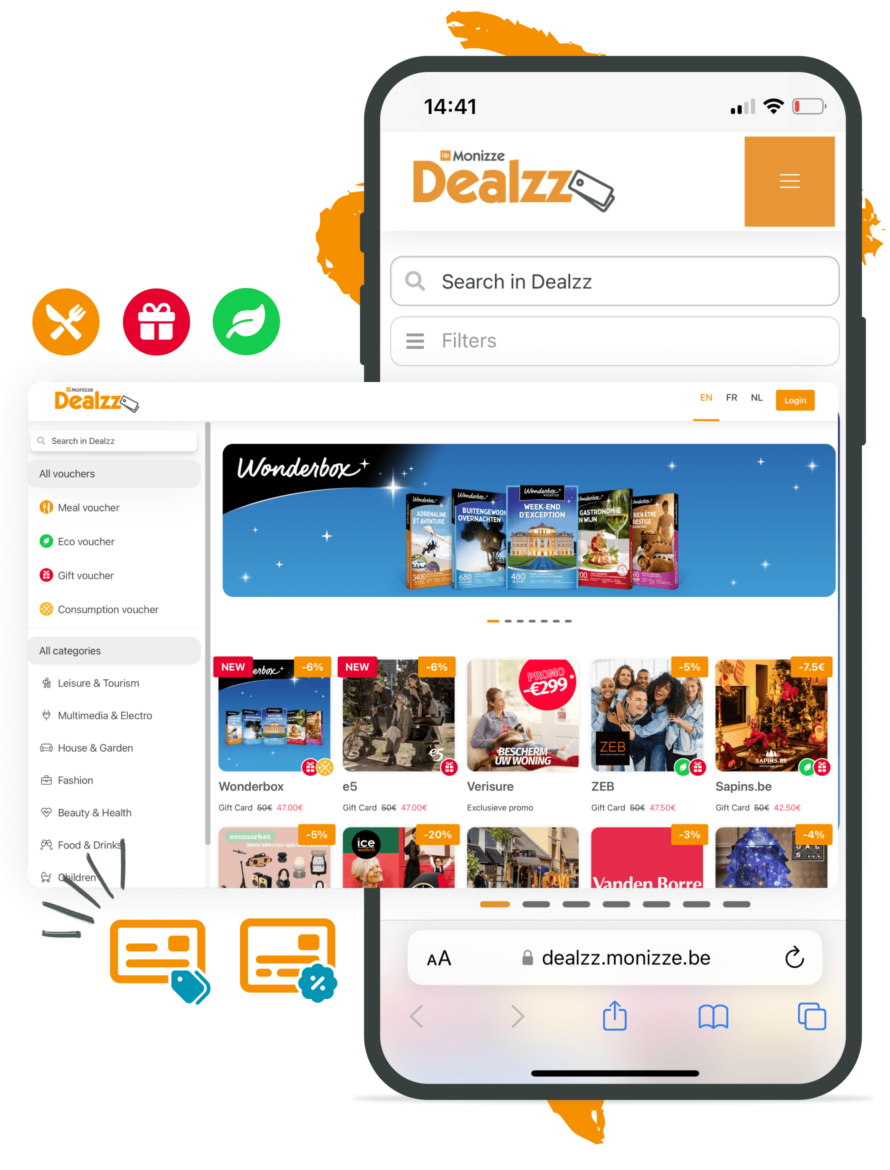 Dealzz:

for the best offers

Dealzz is our online platform with exclusive discounts and offers on more than 100 brands. Dealzz increases your purchasing power and boosts your inspiration.

On Dealzz, you will find two types of deals:
Gift cards
Discount codes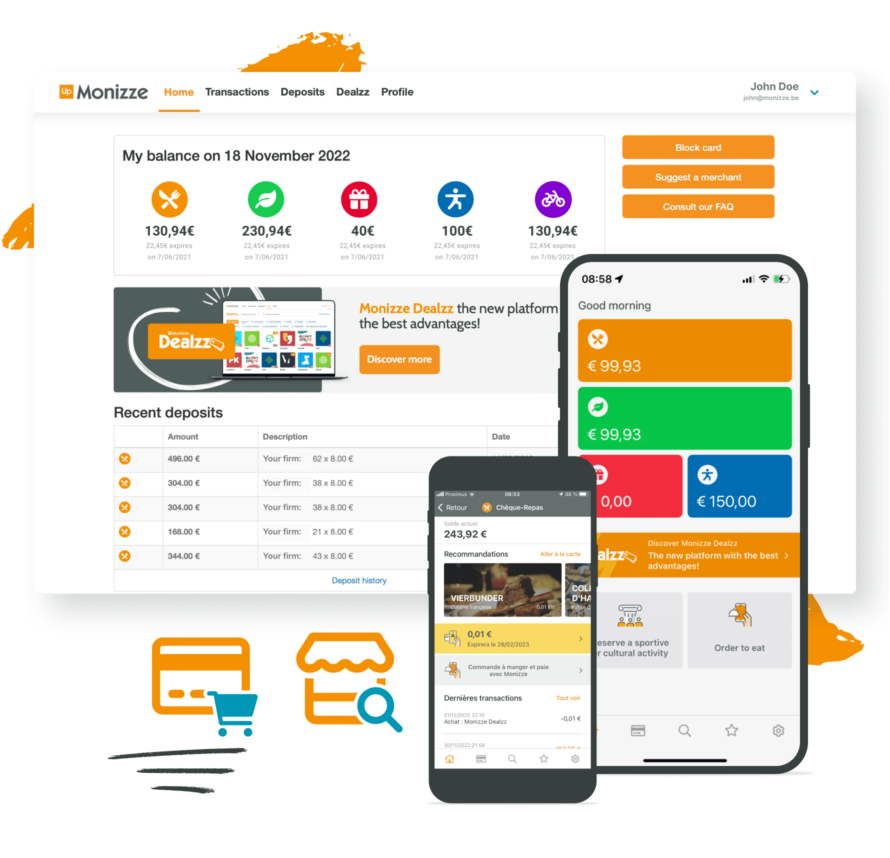 The advantages
of
MyMonizze
Easily consult your balance, recent transactions and the expiry date of your vouchers
A user-friendly and secure personal space
Available as an app (iOS and Android)
Save even more money thanks to our many discount codes
You can reach our customer service from Monday to Saturday
Inflation too high?
Thanks to meal vouchers, you enjoy extra net purchasing power up to €1.760 per year. That's up to €8 x 220 days worked or up to €168 per month.
55.000 companies choose Monizze
Here are all they why's
Fast service
Enjoy an easily accessible and personal customer service. You will not hear waiting music or endless menus.
4-in-1 Monizze card
All your benefits on the same card. Consult your transactions, balance and so much more via our app and MyMonizze.
MyMonizze user area
Our employee platform is fast, simple and secure. Check your balance, expiry dates and transactions.
Our network
More than 36.000 merchants accept our vouchers. You can use our interactive map to find them.
Discover our network
Go to MyMonizze
Our vouchers are widely accepted by
tens of thousands of merchants
Various
online shops

accept our meal vouchers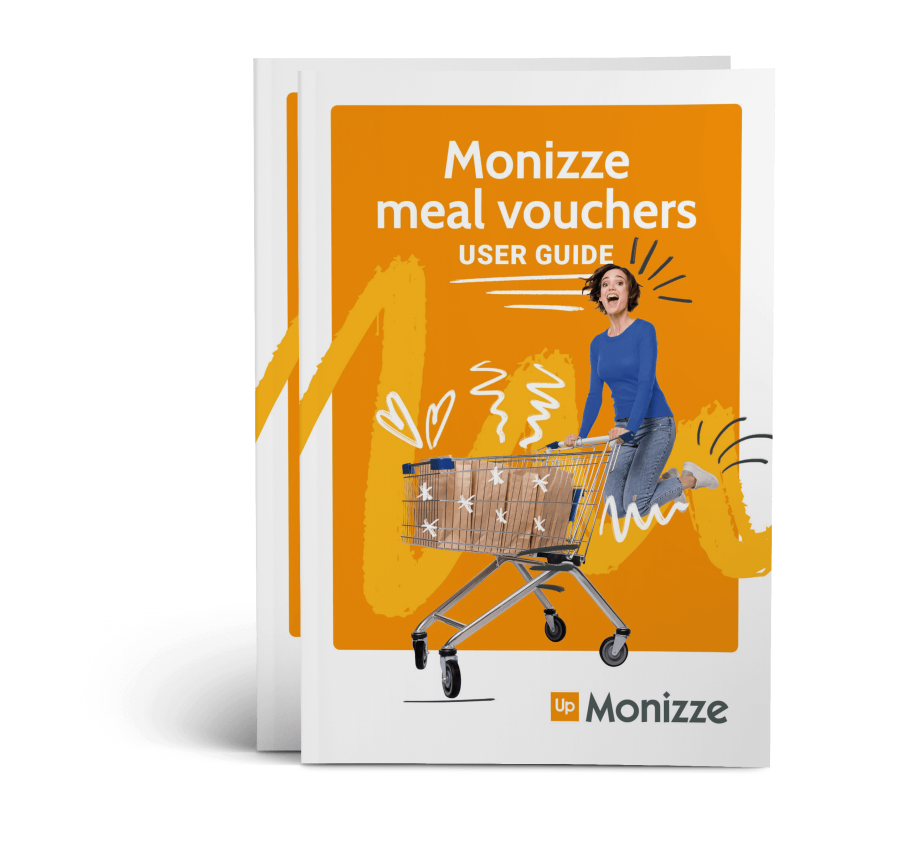 Discover our meal vouchers brochure
Our brochure provides all the info on getting started with Monizze, MyMonizze, our app, Dealzz and so much more.
Download our brochure
FAQ
A question?
How long are meal vouchers valid?
Meal vouchers have a legal validity period of 1 year or 12 months.
Where can I pay with Monizze meal vouchers?
What can I buy with meal vouchers?
Meal vouchers can only be used to buy food products.     
Monizze meal vouchers are accepted in a large network of (local) shops and restaurants. In addition, meal vouchers can also be used to pay online for purchases at various webshops.   
Discover our offline network here.
Discover our online network here.
How will I be informed when my vouchers are charged?
As soon as vouchers are charged on your Monizze account, you will receive a confirmation via email (if your email address is added in your MyMonizze account) and/or SMS (depending on your employer's choice).   
How do I add my Monizze meal vouchers in my Payconiq app?
To pay with Monizze through Payconiq, your Monizze card must first be added in your Payconiq app.   
This is possible through two ways:     
Go to "Services" via the Payconiq app's home screen. Click on "Meal vouchers" and follow the instructions to add your Monizze card.     

 

Or go to the "Menu" in the top-left corner of the Payconiq app.

Click on 'Payment methods' and follow the instructions to add your Monizze card.    

 
Remember to link your bank account to the Payconiq by Bancontact app before adding your Monizze meal vouchers. Check here which banks currently offer you to do this. 
Find more information here.
More FAQ's